LG Ericsson iPECS – MFIM
Ericsson-LG has been focusing on small and medium-sized businesses for more than 40 years and this experience is reflected in our products and solutions. The best of which, is the iPECS – MFIM for SMB, to help you save money and lower costs.
iPECS – MFIM employs a fully distributed modular architecture to deliver all the advantages of VoIP. The single voice/data infrastructure significantly reduces the costs of managing your communication solution.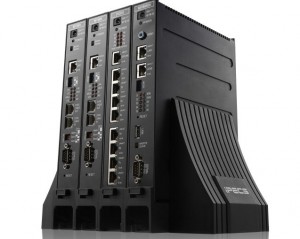 The modular type gateways, terminals and soft clients can be located anywhere there is access to your network.
Powerful redundancy capabilities assure operation should failure occur utilizing back-up power and Call Server modules. iPECS intelligent management permits a highly versatile interface to save management time and costs of all iPECS solutions in a distributed environment. Multi-party audio and video conference through the system eliminates the need for expensive, third party conferencing services.

Key Benefits

Utilizing a simple and flexible architecture best suited for small and medium sized businesses


Cost effective full featured IP PBX system rather than a key phone system


Enjoy the value of convergence that simplifies and empowers business communications


Transparent connectivity for the branch office, home office and business traveller


Improved business productivity and faster business decisions


Understand and respond to your customers' needs quicker


Keep your staff connected and remain reachable from anywhere, anytime, on any device


Experience highly secure rich-media communications


Return on investment as your business grows and becomes more efficient


Future proof your business with future ready solutions


Easy and seamless integration with other applications and solutions across various business environments